Today is release day at Picket Fence Studios and we have some fabulous stamps dies and stencils for you!
I have four samples to share with you today.
I have used affiliate links below each one and I am compensated with a small amount if you use these links to shop and I really appreciate your support.
My first card uses Lorynne Girl paired up with Color Heals the Soul. I Started with a White top folding card base, a Black Onyx front, and a white panel. To make the rainbow at the top I used the Color Heals the Soul and added Gina K inks in rainbow order. I stamped Lorynne on a piece of card stockand cut her out using the coordinating die, colored her with Copic markers and then added some Gina K Crystalline drops to the suitcase to give it a shiny appearance.
My Second sample uses the BFF Girl Kate paired up with Princess Owl and Throw on a Crown. I stamped her also on a piece of card stock, cut her out with the coordinating die and colored her using Copic markers as well. I used a Avery Elle die to create the frame. I added the crown from the Princess Ow set.
My Third sample uses the Pretty Birds set along with the coordinating die and the Negative Leaves stand alone die. Using the tree die I cut one out at the top of my panel and one at the bottom and then added some rainbow colors with Gina K inks and the Life Changing Blending Brushes

>


For my fourth sample I went all out and used two different stamp sets, two different stencils and the Negative Splash stand alone die. I started with a white top folding card base and a white panel cut down a quarter of an inch smaller.
I stamped the Setting on the ocean in Sea Glass ink and the added fish using the Ocean of Fish Stencil. Next I created the sunset using the Sunburst Stencil. I added the water spout by using the Negative Splash die and added color by using the Lif Changing Blender Brushes. To finish the card I added the whale from the Dose of Vitamin Sea set.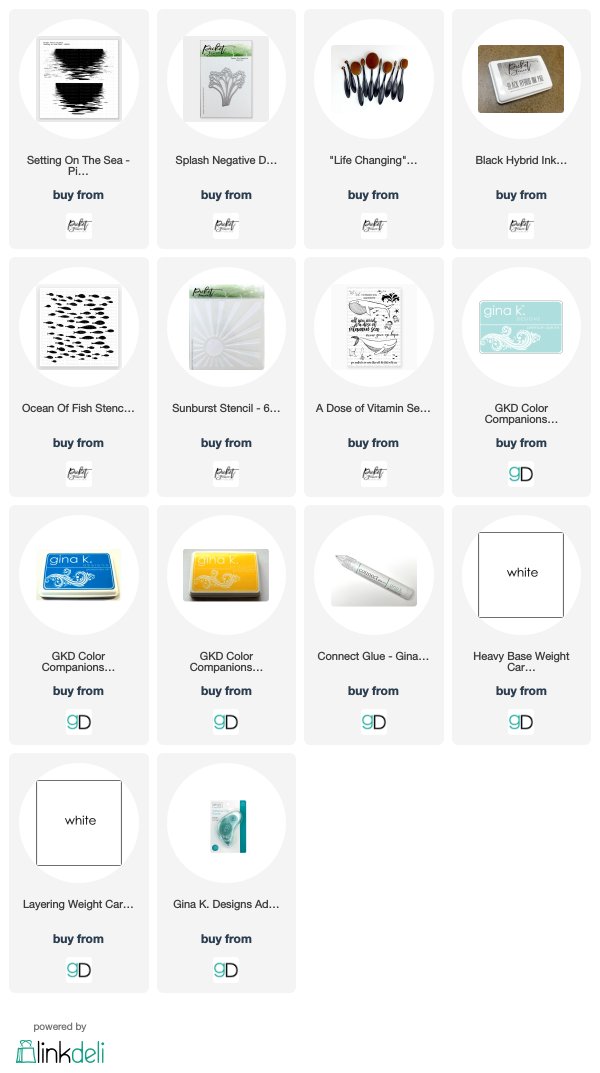 /center>